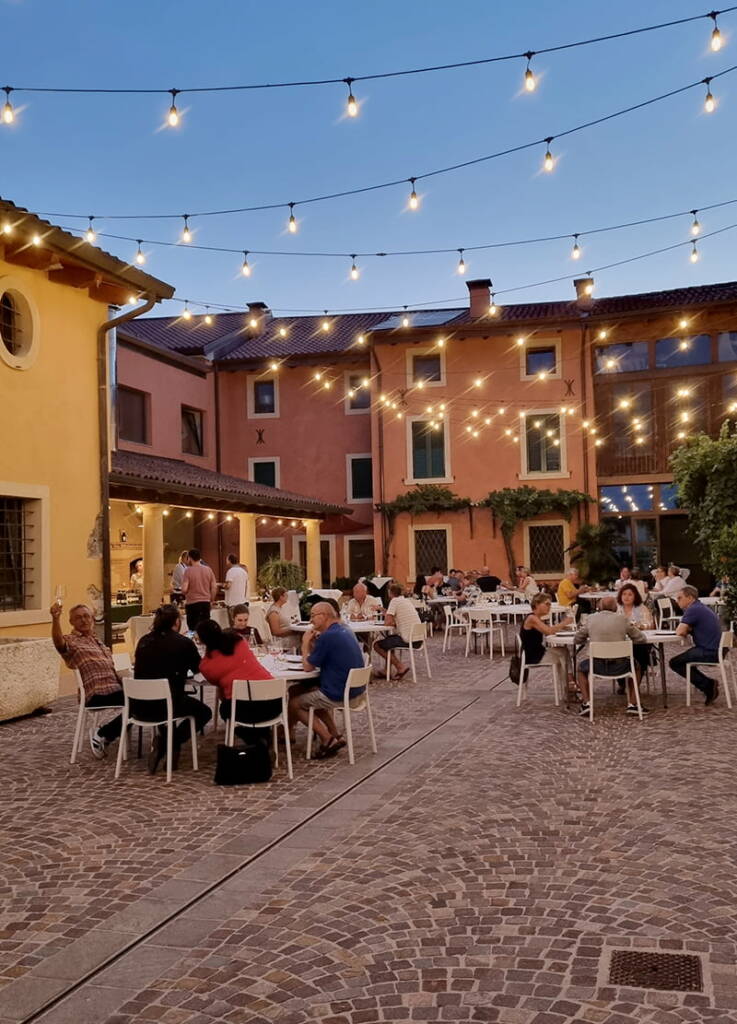 THE COURTYARD
A meeting place
This has been the family courtyard for 300 years. This is where farm carts loaded with delicacies and barrels entered. The horses, chariots and carriages that travelled along the old road connecting the Valpolicella and Val d'Adige areas to the markets on the plains stopped here.
My ancestors' Osteria al Sole was an important meeting place and refreshment point for the whole area, and this courtyard, which so closely resembles a village square, has always been a lively and welcoming crossroads.
My dream was to revive the 'social' role of the courtyard by putting it at the service of both the company and the town, of which we have been a significant economic resource for so long.
Over the years, I gradually carried out building renovations, with the restoration of the oldest sections, and recently completed them by covering all the exterior paving with porphyry.
I wanted to keep the furniture and wall decorations from the early 20th century in some of the interior rooms, thereby preserving the magical atmosphere of the bygone era in which I listened to my grandparents' stories.
EVENTS
Equipped areas, both indoor and outdoor
The recent renovation of the courtyard, with the restoration of the reception buildings, immediately gave us a chance to host social and cultural initiatives.
We set up a 60-seat hall indoors, which can also be used for conferences with technological support. We have also included a kitchen with professional equipment and several rooms that can be used both for tasting sessions and for business lunches and dinners.
In the spacious outdoor area, flanked by an elegant porch with a fireplace and a comfortable service area, we can host all kinds of events, with the possibility of seating up to 120 people.